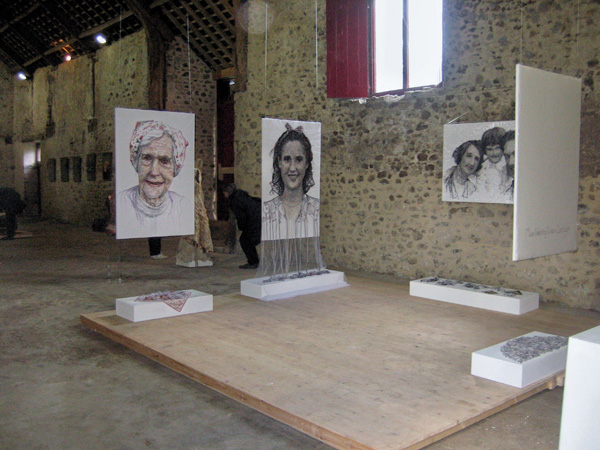 In her series of works, 'The Dementia Darnings', Jenni Dutton has taken best-loved photographs from the family collection and reproduced them as large scale, densely woven depictions in wool and thread.
These photographs each present Dutton's mother at various points in her life. They are well known, to-the-point-of-archetypal, to the artist and her family members. In the making of these portraits, Dutton has necessarily encountered and explored new perspectives on her mother's dementia and the erosive, as well as the transformative, effects of this illness on the self and the mother-daughter relationship.
In the developing of each of these images, she has come into direct contact with those ideas associated with the threads that bind, together
with the threads that fray, the threads that unravel and the threads that are cut loose. This coming together of method and material with content and context aligns the act of stitching and weaving with the fibres of memory and the process of remembering and not remembering. As well, each thread sewn brings the body, particularly the feminine body, in relation to the threads that tie generations of women together and makes tangible, the emotional, as well as biological ties between mother and daughter.
In the recreating and re-presenting of these old family photographs, Dutton invites us to be witness to a life lived. A life emblematised, in this context, by images of grace and composure. Their iconic quality and arresting scale sets up a reverential relationship between subject and viewer and, together with the outward gaze of the subject, their poignancy is unavoidable.
During the making of this collection, Dutton's mother has been intimately connected to the development of each piece, acting herself, as witness, advisor and co-creator:
'My mum has been involved in the whole of this series of work. When I bring the canvases to her house she is excited. She asks questions, she runs her hands over the surface and compares the emerging piece to the original photograph. And, what is really is magnificent she frequently remembers the pieces and our working together on them. She has even been known to relate the experience to others the next day! She watches me work upon the canvas, which is propped up on an easel in her sitting room. Seemingly fascinated, she follows the slow progress of the developing image and lights up as her own likeness is gradually revealed…This work has given me extraordinary and precious experiences with my mum, whose company and opinion I value. And, she is the one who tells me if an eye, for example, is not quite looking correct and usually she is right. This work is about love,'
Much is woven into this collection. Understanding a little of the process amplifies the aesthetic and emotional potency of each image. Metaphor is implicit, enmeshed within each and every stitch. As time passes and life moves on, their meaning and value will continue to unfold.
Briony Goffin
www.brionygoffin.co.uk